Alpine and Cross-country skiing & Snowboarding
 Winter 2023 & 2024 dates 
If any of your family prefer to snowshoe rather than ski let us know! Snowshoeing and winter walks all happen in partnership with freedomtrailtreks and we can offer half to 3-day themed experiences. Hunters first used snowshoes to move across the snow as they tracked animals in the winter. You will have the chance to see trees loaded with snow and frozen lakes as well as identify imprints of local wildlife. 
Skiing - Alpine and Nordic
Carve fresh tracks or glide along wide pistes
Downhill Skiing and Snowboarding
Feel the carves or glide for the first time
An exhilarating activity for a great price
20km and 15-20 minutes' drive up the valley from Chez Arran is the ski town of Ax les Thermes, with fast gondola access to over 75km of pistes from 1,400m to 2,400m. The season is usually December to March. There's something for everyone, from gentle open slopes to off-piste tree-runs, and the extensive network of snow cannon will ensure there's always plenty of snow. A one-day lift pass costs only 
Skirail 
You can arrive from Paris or Toulouse by ski rail. 
Avec Skirail, Ax 3 Domaines, la Région Occitanie et la SNCF s'associent pour vous permettre de goûter aux plaisirs de la neige ... En famille, entre copains ou en solo, ce package vous permet de bénéficier de la meilleure offre trajet + forfaits de ski au départ de Toulouse et des gares de la ligne.
Existe en formule : 1 aller/retour avec un forfait de ski 1 jour ou 1 aller/retour avec un forfait de ski 2 jours consécutifs.
Le forfait Skirail comprend :
- le voyage aller-retour en train au départ de Toulouse (et les gares de la ligne Toulouse-Ax Les Thermes)
- les transferts de la gare d'arrivée à la télécabine en bus ou en petit train (retrouver les horaires ci-dessous)
- le forfait remontées mécaniques 1 ou 2 journées.
 AX LES THERMES SKI PRICES FOR MULTIDAY PASSES
Multiple day prices 2024 with reduced rate tarifs on the right 
There is a space evolution for younger skiers which is 16€ for 5–17-year-olds and it is necessary to show proof of age. Under 5-year-olds go free. 
2 jours  

 83,00 €

70,00 €

3 jours

121,00 €

102,00 €

 
4 jours

162,00 €

136,00 €

 
5 jours

198,00 €

167,00 €

 

6 Jours

229,00 €

193,00 €

 
7 jours

261,00 €
Webcam check www.ax-ski.com
Snow forecast 
http://www.snow-forecast.com/resorts/Ax-les-Thermes
http://www.snow-forecast.com/resorts/Pas-de-la-Casa
http://www.snow-forecast.com/resorts/Porte-Puymorens
Coming with children? Creche at Ax le Thermes resort
Now reservable online by card and this is now the only way to reserve the garderie. It is open between the following dates:
 23 December 2023 au 17 March 2024

Hours: 1/2 day 9h à 12h45 or 13h à 16h45 Full day 9h à 16h45.
| Journée | Matin | Après midi |
| --- | --- | --- |
| 8h30 - 17h30 | 8h30 - 13h00 | 13h00 - 17h30 |
| 47 € | 24 € | 24 € |
La garderie is for children from 4 months à 5 years and the number of places is limited. Remember to complete required documents. 
La garderie se situe à l'arrivée de la télécabine du Baou (Ax - Bonascre). 
Coordonnées
Plateau de Bonascre
09110 BONASCRE
Tél. : +33 (0)5 61 64 29 64 E-mail : contact@ax-ski.com
Plateau de Beille - Espace Nordic 
30 minutes from Chez Arran.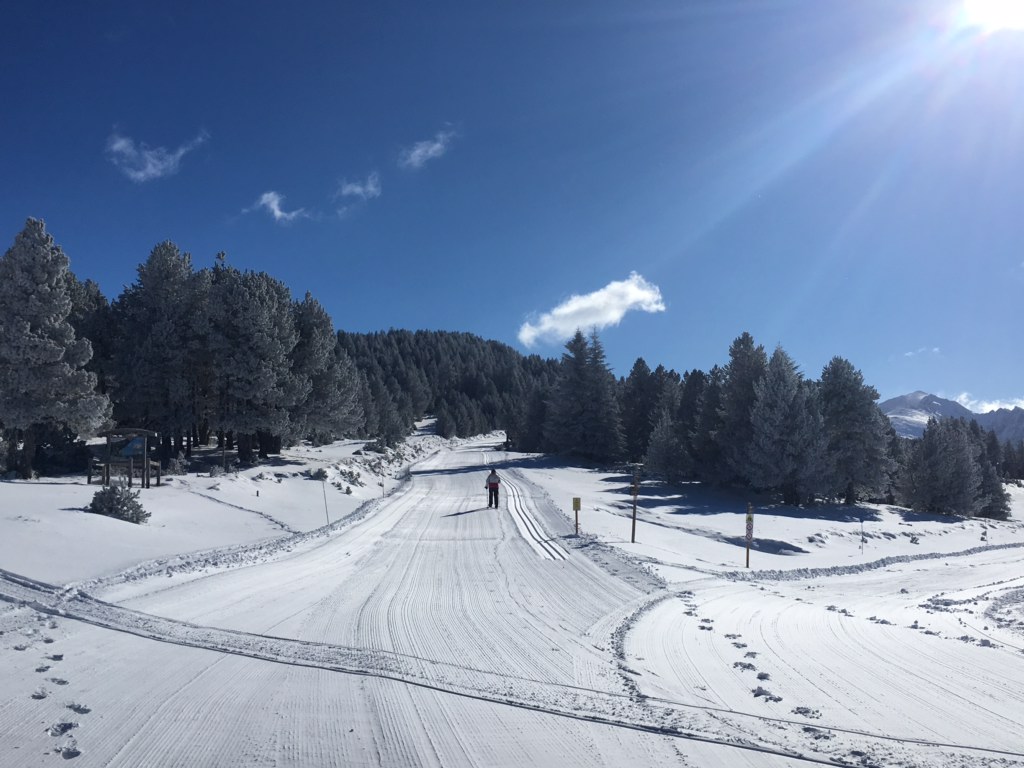 En Hiver
21 Pistes de Ski de fond de tous niveaux
2 Pistes Piétons
4 Pistes Raquettes
Un espace ski de descente pour débutant avec 1 téléski et 2 pistes
1 espace luge avec un tapis couvert et 4 pistes
2 pistes « chiens de traineau »(avec Angaka)
1 piste traineau à cheval et ski joering (avec Angaka)
1 pas de tir pour le biathlon (avec l'ESF)
VTT électriques
We recommend Ascou http://benlear.eu/videos/ascou-ski-resort/ or Les Puymorens for families, and Andorra resorts if you like to combine skiing and shopping. Ski hire shops are easy to find in Ax and on the way. Lessons are available at most resorts and best booked in advance. Andorra works well as a higher resort option and is 45-50 minutes away. 
To book ski lessons check out this site 
 Hiring Ski equipment
There are a few places between Tarascon sur Ariege and Ax where you can hire ski equipment. Main options include Ax les Thermes Sport 2000 http://ski-hire-sport2000.co.uk immediately to the right of the main ski lift in Ax. Telemark Pyrenees http://www.telemark-pyrenees.com/en/ is closer to the entrance of the town. 

Nordic & Ski touring
The perfect winter cross-training for runners, cyclists & triathletes
A fun way to glide around the mountain in tracks or off the beaten track
The Plateau de Beille  http://www.beille.fr is the Pyrenees' premier cross country ski venue. At over 1,800m, just 20 minutes drive from home, no less than 70km of beautifully maintained circuits will delight and challenge Nordic skiers of all abilities. You'll also find many marked snowshoe trails. It's a great panorama from the top of Beille and you can also try dog sledging with some fabulous huskies and Pyrenean mountain dogs. This needs booking in advance. There is a ski bus departing from Les Cabannes up to Beille regularly at the weekends. 
 Chioula is also well worth a visit and skis are available at Telemark Pyrenees. The Pyrenees is a fantastic place for ski-touring. There are routes to suit all levels of experience and fitness.
 NEW Guidebook for 2023 - Ski Rando- Patrice Descuns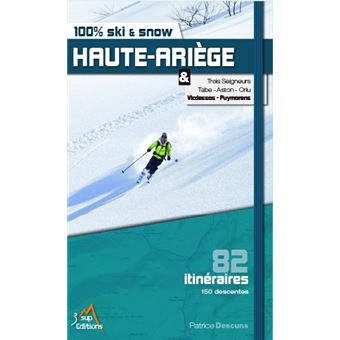 The first guidebook for 35 years was produced in 2013 however there is now a new one. The 2013 offering is an attractive offering from Patrice Descuns featuring 73 routes from Haute Ariege, Puymorens, Capcir and Andorra. Includes half days out to "grande courses". Plenty of fun to be had in this book! A must for the adventurous. Here is a review in French from SKI rando mag 
This book is available in Decathlon near Foix and no doubt Telemark Pyrenees on the way up to Ax les Thermes. You can also find it on